Last night, I lived a true musical moment.
I've always loved the Foo Fighters and wanted to see them live but never got the chance to. I also never thought I'll be able to see them somewhere else than in an arena or a festival.
Well, I heard about them doing few secret shows around LA, and yesterday after checking Twitter, I realized they were playing the Roxy, a small venue on Sunset Blvd. I didn't think twice, got up from my nap, got ready in 2min, drove like a crazy person and ran for my life to the line who was already pretty packed. I stood there for a while, met few people and when they starting giving away the tickets the line was insane.
It kinda felt like Charlie and The Chocolate Factory when I got my golden wristband, #156 out of 200, I got pretty close to not making it.
After a beer and a meal at The Rainbow, I went back in line (seriously...), doors opened shortly after and find myself being 2nd row. Wooh!
I was so excited by the time they got on stage and I couldn't believe this was finally happening. I've seen a lot of shows and there are few artists I'll go crazy for and Foo Fighters were definitely on my list. I mean, it's quite a trip to see Dave Grohl for the first time. When you look at him, you think about Nirvana, Foo Fighters, Queens Of The Stone Age, Them Crooked Vultures and all the side projects he was been involved with. That's nuts!
They starting by playing their not yet released new album from start to finish, (best idea ever), and their new songs are rad! Heavy, beautiful, great lyrics and quite some Josh Homme's influence on the guitars which is totally fine with me. They recorded it the old way, without any computer or protools, and that's what it sounds like on stage as well, raw and honest.
Then, they played, and played, and played more, all their hits, old and newer songs for a total of 2 and a half hours set. The crowd was singing at the top of their lungs, smiling, we all knew this was epic, a sort of once in a lifetime experience and we for sure lived the lyrics of Everlong "And I wonder/When I sing along with you/If everything could ever feel this real forever".
Thinking about "real", while I was watching them rocking our faces off, I thought about all the crap we listen to all day long thru the TV and radio, people don't even know/care if the "artists" are really singing, if they can play any instrument... Watching the FF, it feels good and reassuring to see some true talented artists, who breath and sweat what they play and are amazing at it. They literally blew my mind last night.
When I woke up on Monday, I had no idea I was going to see one of my favorite band and the best show ever! Unexpected days are the best!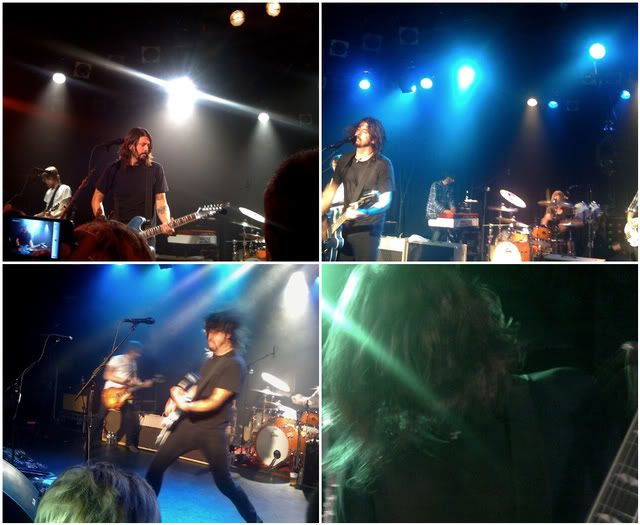 this gives me the chills a little:
Dear Rosemary @With[Bob Mould]