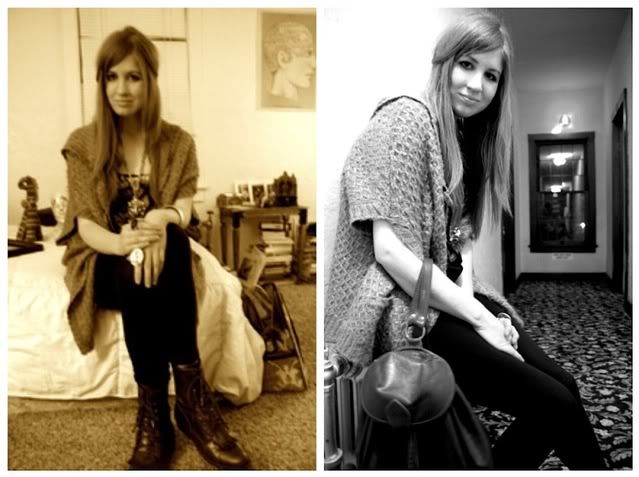 When i saw Lyndsay couple days ago wearing this outfit, I thought it would be nice to get together and take some pics and maybe do a mini interview =) And that's what we did! We had a great time talking, listening to some surf garage music, laughing and sipping on some wine.
I miss taking pics, being creative, so it was great to hang with someone and feeling productive at the same time.
Tee
Miss Chief @ Bows and Arrows
She qualifies this outfit as "casual cool", she feels comfy and not wearing heels makes her more confident sometimes, more boyish. For her, men's wear on women is super hot: suspenders, blazers,...
About the Jacket: "it's witchy, comfortable and unexpected;
I like the WTF in everything and a little bit of perversion, it keeps things interesting"
She does a lot of art projects herself and takes pics. She took this one underneath, which is an hyperrealism of what french culture is, like a story that has been told but never experienced.
She also used to study french new wave films at school and knows the Godard film "A Bout De Souffle" by heart.
So i guess she likes the frenchies... phew!
How was your "fashion style" in high school?
- I was known as the "hat girl". I also had a new hairdo every season. Oh! and I NEVER died my hair! (I'm pretty obsessed with people who never died their hair, it's kinda awesome to me.)
- I don't think so cause no one is gonna dress like that, she's more like a figure. Coco Chanel or Jackie Onassis are icons.
- photos, videos, shows, sharing moments, creating scenes.
Every interaction is a time to create a scene.
-I don't know where I'm gonna be in 10 years (thank god!) but I feel I'm in the waiting room of my life right now. I for sure want to accomplish grad school (film theory and criticism) and wanna finish projects, not half projects=) I also want to travel and have a lot of good stories!